WhatsApp Business Marketing Software
WhatsApp Business Marketing Software is very popular for your Brand growth. You can send messages with images, pdf, video, and audio.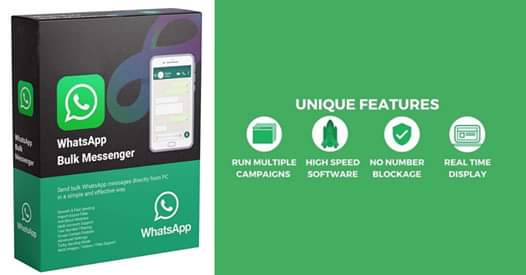 Import Contact Numbers from Mobile and Excel Files
You can directly import contact numbers from the mobile when you connect through WhatsApp mobile number then it connects and import all your mobile's contact numbers and show in the list.
When you choose the numbers or select the numbers and then write the message you can attach any files or images or audio or videos files and then click the send by blind mode button. Through the blind mode if you do not save the numbers then it also works. When you send messages then it shows you status sent or fail. Which numbers are messages are sent or not.
After sending a message, you can export successfully contact numbers in an excel file.
This work only for WhatsApp numbers means if there are no WhatsApp numbers then it does not work means not sending messages.
If you have contact numbers in an excel file then you can import from file locations and the same above process.
You must have the country code (91 for India) on contact numbers before sending the message. No need to add + sign only country code (91).
Import Contact numbers from WhatsApp Group
WhatsApp Marketing tool or software imports contact numbers from groups that you have already on your phone. You can select which group wants to send a message or not. you can easily select through the tick mark.
You can also send messages to separate the group's contact numbers. WhatsApp Marketing Software also grabber all contact numbers separately and exports them in the excel file.
Remove Duplicate Numbers and Insert Country Code 91
There is a must requirement before sending messages. You have to insert the country code (for India 91). No need to add + sign before the country code.
With this software, you can insert the country code to all the contact numbers within one minute.
There is an option in the software Numbers Filter, when you click this, you will see an option Files under Import, then you click files and import file which you already filled name and contact numbers.
After attaching the import file then you see here your file's contact names, and numbers.
There is an option for duplication through this to help you remove all duplication numbers from files.
After selecting the duplication option click on import then you see again name and contact numbers but at this time there are no duplicate numbers. You will also see if your list had duplicate numbers then your list count decrease.
Now you can click on Insert Country code and enter the Country code for INDIA (91).
Note: please do not add plus (+) sign before country code only enter 91.
Now you can click on Start checking for Whats Numbers.
After start checking you see there is 3 option are WhatsApp No, Normal No, and Business Whats APP no.
Now you can click the export and select WhatsApp only (Whats APP and Business Whats APP contact numbers).
Now Your list is ready for messaging.
There is the link for Whatsapp Business Marketing Software free download.
Requirements for installing WhatsApp Business Software
1. Window 10 with 4 GB RAM and minimum 160 GB hard disk and intel core i3 processor system.
2. Microsoft dot net 4.6 install and above. Click here.
3. Support file install click here for file.
4. If you have windows 7 in your system then install windows 7 service pack 1from this link. click here
5. Free 1-day Trial key and purchase license for one year clicks here.
If you want to know more about digital marketing then visit my next blog. Thank you in advance.